David Bolton's
Learn the English Phrasal Verbs - the easy way!
Now you can learn the 101 most common English Phrasal Verbs, with an absolute minimum of effort! Order this mp3 audio download today, and forget about struggling to memorize those difficult phrasal verbs. Simply listen to the audio while you jog, drive, cook, or just relax - you will soon be using the phrasal verbs correctly, without having to study a list.
Easily master the 101 most common phrasal verbs!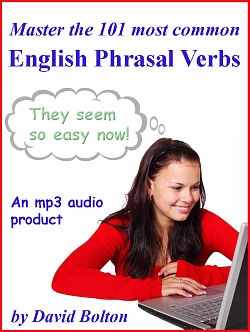 If you are a non-native speaker of English, you know how difficult the so-called "phrasal verbs" are. To a foreigner, they usually don't make any sense at all, and how could they?

By definition, phrasal verbs are a verb + preposition which form a combination whose meaning can hardly be derived from the two words that compose them.

Until now, learners of English had no choice but to spend a lot of time memorizing these combinations, in the hope that some day, they would finally be able to incorporate them into their vocabulary. But learning a phrasal verbs list and their correct usage by memory is no easy task, as I'm sure you know.

That's why I prepared this special mp3 audio product: to help you master the 101 most common phrasal verbs with practically no effort!
All you have to do is copy them onto your mp3 player and listen to them while doing something else: taking a walk, jogging, cycling, cooking, cleaning - that way, you don't have to spend any extra time on learning them. You gradually "absorb" their meanings and usage while performing your daily tasks.


Learning the phrasal verbs has never been this easy...
Here's what you get...

A .zip download containing the following:

- More than 100 mp3 audio files, each one dealing with one or more of the most common English phrasal verbs.

In these recordings, I speak a bit slowly, and very clearly so even if your English is only at the intermediate level, you won't have any trouble understanding me.

- A special extra file containing a story. This one story - about 12 minutes in length - contains all of the phrasal verbs treated in theother files (more than 100 altogether). By listening to this entertaining story a number of times, you will soon have a good understanding not only of the meanings of the phrasal verbs, but above all, their correct usage.

- A PDF file containing the entire text of the story, so that you can read it while listening.

Also, this file has a written phrasal verbs list of all the phrasal verbs in the package, together with their meanings, expressed in simple English.



This product is one of a kind; if you want to finally master the
phrasal verbs, it is something you will surely want to own!
As a matter of fact I am so sure that this package will help you master the phrasal verbs, that I am offering an unconditional, money-back guarantee:

If, after using these mp3s for 90 days, you do not feel that they have helped you learn the phrasal verbs, simply write to me, and I will give you your money back!

And the price? For all of you who have visited my site and downloaded some of my free materials, I am offering a very special price: only $19 (U.S.), payable through Paypal.



Yes, that's right - for about the price of one private English class, you now have the chance to learn more than one hundred phrasal verbs!
But don't wait too long to order: The price may be going up in the future, so it's better to take advantage of this special offer while it lasts.

Why wait? Take this opportunity to master the most common
English phrasal verbs, and raise your English to the next level...
for only $19 U.S.
If you have any questions before buying, just write me and ask. My email:

Sincerely,





David Bolton



P.S.: When you order, I will send you your download links by email. However, because I live in Japan, which has a very different time zone from those of Western countries, I may be asleep when you order. Don't worry! In that case, you will hear from me within about eight hours.

P.P.S: After you order, please make sure to check your spam box, in case my email with your download links went there by mistake. In case of doubt, you can always send me a second email address of yours: I will then send your links to both your addresses, just to make sure you get them.






Return to home page





Copyright © 2012, David Bolton